Online Quran Recitation Course
Reciting the Quran brings an immense level of peace and happiness in the heart. It goes up a notch if you recite this Book in a beautiful way. Our online Quran recitation course will help you read the Quran with proficiency, by the will of Allah (SWT)!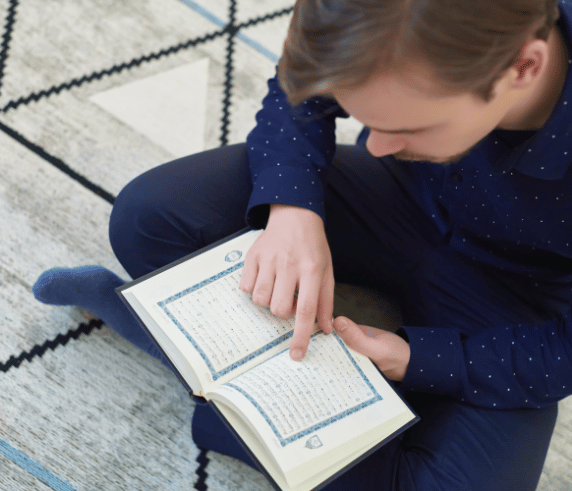 Why Is It Vital to Learn Quran Recitation?
Learning to recite the Quran is one of the most noble tasks that a Muslim should perform. Quran is the Word of Our Lord (SWT) – the one who blessed us with endless blessings. It is important that we dive into the study of the Word and examine what Allah (SWT) wants from us. Reciting it in the way that He (SWT) likes will give us a reward that is beyond comparison. Also, it is a duty of every Muslim to learn the recitation and make others learn too.
Why Should You Learn Quran Recitation Online?
Thankfully, we are living in an age where technology rules the world. We witness the miracles of technology around us every day. Let us be a part of this bandwagon and make the most out of this remarkable invention.


You can now learn Quran recitation online and make the most out of your time. Instead of mindless scrolling on social media, you can find an academy that provides an online Quran recitation course. The tutors on some of the most reputable platforms come from an experienced backgrounds. They know all the challenges a student faces during this journey and the tips to enable them to perfect their recitation through Quran recitation online classes. Plus, online learning gives you great flexibility when it comes to time and location.
The Prophet (Peace Be Upon Him) once said:

"The best of you are those who learn the Quran and teach it." (Sahih Bukhari 5207)
 It is narrations like this that inspire us to work harder. We were not sent in this world without a reason. Allah (SWT) wants us to make our lives worthwhile. Today, advancements in technology are our gateway to earn the pleasure of Allah (SWT). Let us all gear ourselves and indulge in the task to learn Quran recitation online.


Every second that we spend in this endeavor will turn into a reward for us on the Day of Judgment, insha'Allah!
What is Included in Our Online Quran Recitation Course?
Building a strong foundation is essential for perfect recitation of the Quran. If a student learns the basics well, it's almost effortless to learn to read the Quran correctly and fluently. Therefore, we greatly emphasize and spend time on making the students absorb all the basic concepts with full understanding.
This is the reason we have included Tajweed and Qaida sections in this course. This is ideal for beginners as well as intermediate students. Noorani and Roor Al Bayan are properly organized books with separate sections for every Tajweed rule and practice lessons. We explain every Tajweed rule in detail and make sure the student has got it fully and can put it into practice. The student will learn the following concepts.


Arabic alphabets with the correct origin (Makhrij) of each
Soft and hard letters
Bold and light letters
Movements and types of movements
Qalqalah
Ikhfa
Idgham & Iqlab
Maddah
Stop signs


And a lot of practice…

Our aim is not only to correct your Quran recitation but also improve your fluency and style – the three ingredients to become a great Qari.
Who This Course is Most Suitable For?
Our online Quran recitation course has been designed after paying attention to peculiarities. We know how there are some people who do not have any background in this domain. This is why we start the course from scratch and clarify every little concept along the way. So if you are a complete beginner, this course is perfect for you.


As for those with some background in Quran recitation, we have a thorough communication to discuss the curriculum structure and pace they prefer. The aim is to make the whole learning process easier for all.


Keeping all of this in perspective, we have designed a course that covers all the essential details. This course is suitable for students of all ages. As mentioned, we tweak the curriculum according to student requirements. Hence, if we have a kid on board or an adult, the curriculum is twisted to fit their pace and learning preferences.
Who Are the Tutors For Our Online Quran Recitation Classes?
At our platform, we have gone the extra mile to provide some of the best teachers to our students. Each teacher comes from a credible background with years of experience in the field. They have provided Quran recitation online classes for years and know all the challenges associated with this field.


You don't need tutors who are only concerned about payments. You need a tutor who is sincere in his/her task – someone who knows how to make the study comfortable for every student aboard.


This is why our platform works day and night to polish the recitation skills of the students. You will learn through the best technical equipment and some of the brightest minds. Indeed, the pronunciation of Arabic is a challenging endeavor. Our tutors know how to make it easy by bringing the easiest and effective curriculum to the table.


We have male and female teachers to accommodate every student. Our tutors are from Pakistan, Egypt and Saudi Arabia and are proficient in Urdu, English and Arabic languages. Plus, the curriculum for every student undergoes several modifications according to the pace and learning pattern they prefer. We also provide relevant material to the students so they can understand the course well.


Our online Quran recitation course is available in different packages. You can choose according to your schedule and overall suitability. We suggest that you take our trial lessons and see if it works for you.